Atlantic City, New Jersey, the iconic East Coast destination, is ready to revolutionize the experience for meeting planners, exhibitors, and attendees with an all-new website. The innovative platform offers a variety of interactive tools, engaging content, customizable features, and a bright design for an efficient planning process.
By showcasing the uniqueness of Atlantic City, our new website aims to captivate meeting and event planners and inspire them to host memorable events with a seamless blend of business and leisure.
New Look
Immerse yourself in the professional new look of Visit Atlantic City's website, featuring a captivating wave design that transports you to our East Coast destination. The high-quality slides, call-out tiles, and icons capture the vibrant essence of Atlantic City, showcasing its numerous activities, attractions, and experiences.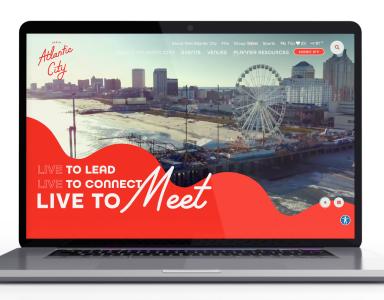 User-Friendly
Whether planning from a desktop or on-the-go, the website boasts user-friendly navigation, allowing planners, exhibitors, and attendees to quickly find what they need across all devices. The header navigation provides fast access to essential features including a Request for Proposal (RFP) button, weather updates, and direct links to our Group Tour, Atlantic City Sports Commission, and Atlantic City Film Commission websites.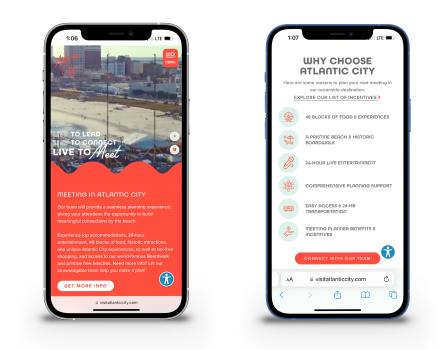 Take A Scroll Down
Our homepage is your guide for a successful planning experience, featuring numerous sections detailing how to best organize your time in Atlantic City. As you scroll down, our eye-catching wave-like tiles will present you with Visit Atlantic City's many accolades and awards highlighting the recognition and trust earned from industry professionals, detailed information about attractions, annual events, meeting venues, and so much more.
Stay up to date on upcoming events with the dynamic slider feature, allowing planners to conveniently explore the Atlantic City Convention Center calendar and citywide events.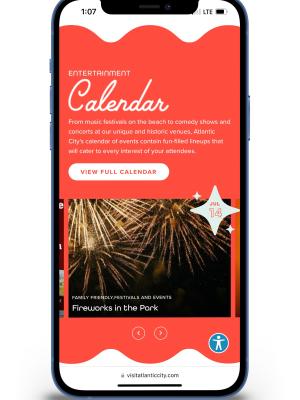 Explore Our Listing Pages
Each listing page features a variety of exclusive planning resources for your meeting experience in Atlantic City. Explore our pages for in-depth information regarding our citywide partners, venues, hotels, and events. Pro tip: Use the trip builder feature to create a personalized trip by simply tapping the heart on each listing, guaranteeing a tailored experience just for you.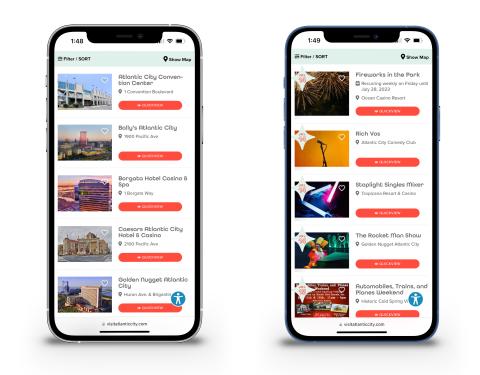 Your One-Stop Destination
Visit Atlantic City's redesigned website creates a unified destination experience by merging with our Group Tour and Atlantic City Film Commission sites. The Group Tour microsite provides resources for planning group travel in Atlantic City, while the Atlantic City Film Commission offers support for filmmakers, including permits and location scouting. For sports planners, the Atlantic City Sports Commission showcases the city's versatile sports facilities and promotes upcoming sports events within the destination. Whether you're planning a group tour, seeking filming opportunities, or organizing a sports event, Visit Atlantic City has you covered.

Visit our new website to take the first step toward planning your next event in Atlantic City!