Here in Atlantic City, we never stop thinking about tomorrow. We know the enormous impact meetings and conventions have on associations, corporations and other organizations. These events are not to be taken lightly.
Meet AC believes meetings are always meaningful, from where they are held to how they are powered. Our team is mindful of all the considerations that planners work through in organizing and executing productive and memorable gatherings.
There is not just one element that goes into creating meetings and events that resonate with attendees. Powerful meetings have the ability to be regenerative and dynamic, leaving attendees ready to return to work with the courage to make the world a better place in their own way.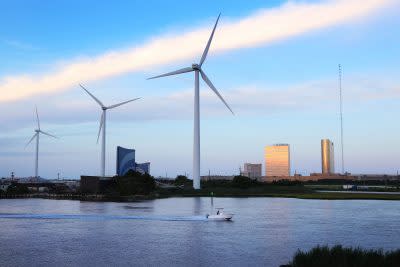 Shared experiences inspire groups in a way that cannot be replicated. From meeting venues and F&B to teambuilding and networking activities, each aspect of a meeting presents opportunities to explore new ideas and discover one's potential.
The team at Meet AC is mindful of meeting planners' needs to accomplish an event grander than could rightfully be expected. Our destination and venues work with planners before, during and after events to ensure they create the experience of a lifetime. The results speak for themselves.
As the world readies to fully reawaken, there's no time to waste. It's time to look ahead to a bright future. That begins with meeting face-to-face in a way that truly embraces all that makes this world special. Plan events that nourish attendees' souls and plant seeds for a better tomorrow—for your group, our society and the environment surrounding us—here in Atlantic City.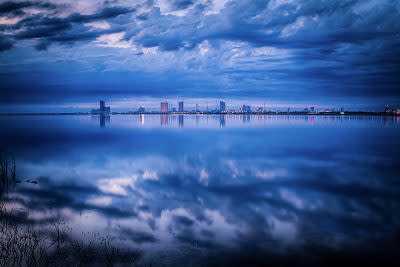 Read on to discover the many reasons meaningful events don't happen in Atlantic City, but rather are created here.
World-Class Facilities
Realtors and meeting planners know location, location and location are the building blocks of a meaningful meeting. No two groups are alike, and meetings and events reflect that fact. That's why the Atlantic City business community has built an inventory of impressive venues to choose from. Consider these staggering statistics: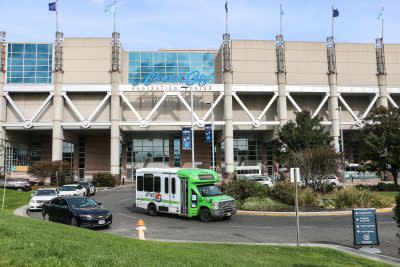 There are vast meeting spaces, in our convention center and elsewhere, and ideal settings for intimate gatherings of VIPs and/or C-suite officials. In the convention center alone, there are 45 meeting rooms and 32,000 square feet of pre-function space.
And there is, of course, 5 miles of beach leading to the majestic Atlantic Ocean. No meeting here is complete without including the world-famous Boardwalk as part of the festivities.
At a time when open spaces are at a premium, our destination is literally a sandbox for event planners to create impactful gatherings where attendees feel empowered to dream big and act bigger.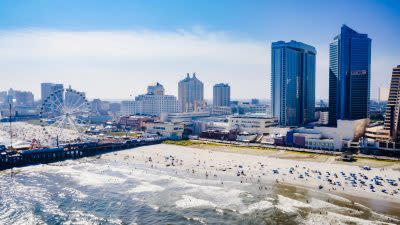 Preservation
All of our minds have been on health and well-being. We've been forced to discover new ways of doing business so that our companies and organizations can thrive in the future despite present-day challenges.
Sustainability comes in all forms. We don't take that for granted when assisting meeting planners. In fact, sustainability comes with the territory.
Atlantic City Convention Center achieved LEED Gold certification and is GBAC STAR accredited to host meetings in a safe manner.
The solar roof consists of 13,000 individual panels and covers over 290,000 square feet.
Solar panels produce 28% of the energy the convention center utilizes annually.
The facility has successfully reduced energy consumption every year since the building opened in 1997.
Atlantic City's convenient destination also plays a helping hand in crafting eco-friendly events. We are within driving distance of one-third of the nation's population and 20% of the country's business addresses. Planners will have potential attendees in hubs like New York, Philadelphia and Boston within their reach without asking attendees to step aboard a plane.
Upon arrival, attendees will not need a vehicle. Powered by compressed natural gas, the Atlantic City Jitney is available year-round. Additionally, a pedestrian air bridge links the Convention Center to the adjoining Sheraton Hotel.
Planners can continue this commitment to the environment by organizing CSR initiatives such as beach rescue missions or projects to help preserve the iconic lighthouse.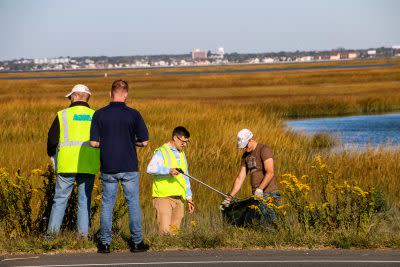 All Are Welcome
Renewed focus on diversity and inclusion efforts among organizations point toward another kind of sustainability. When planning a meeting to a destination where all are welcome, look no further than Atlantic City.
Meet AC strongly believes in the value of diversity in the workforce, a fact demonstrated by our staff. We know groups of different backgrounds and perspectives open opportunities otherwise not considered. From our diverse restaurant options to our welcoming sales approach, we make it a point to show all are welcome.
In partnership with Stockton University, we develop educational programs and provide greater value for our clients. That's why you will find solutions in Atlantic City you may not see elsewhere. The dedication to DEI (diversity, equity and inclusion) is genuine and serves our destination, clients and the industry as a whole well. We are proud to be leaders in inclusion.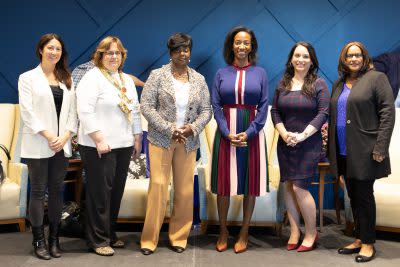 Socially Responsible
Reducing their carbon footprint is just one way groups can give back to Atlantic City. A number of corporate social responsibility (CSR) activities provide opportunities to assist individuals in need.
Planners can partner with organizations focusing on citizens with physical or intellectual disabilities, endangered youth, abuse victims, the homeless and more. Not only do CSR projects benefit the less fortunate, but they also promote teamwork and provide perspective to a group looking to achieve goals.
Looking Forward              
With a mindful eye toward best practices, Meet AC is constantly working toward building better events. Planners have a partner in us that they can trust to provide opportunities and suggestions that bring attendees together for invigorating events that lead to better cooperation and creativity among teams.
We have the right venues, local partners and location to ensure your next meeting is memorable and meaningful. See for yourself all that Atlantic City has to offer.