Atlantic City would not be what it is without the beautiful sand, relaxing sea breeze and mesmerizing Atlantic Ocean.
After all, the beach is where it all started: pristine sand with healthy salt air and visionaries who saw the promise it held. Now, Atlantic City is one of the world's favorite destinations and the beach differentiates it from any other community, gaming locale or not.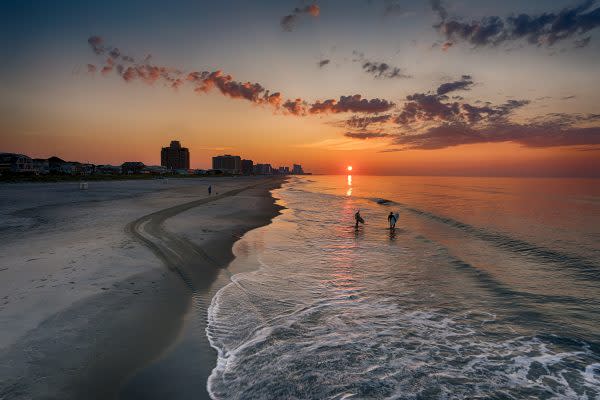 That's why the team at Visit Atlantic City and the local hospitality community have made a commitment. We vow to maintain what makes our destination so beloved and unique. When meeting attendees and convention delegates arrive, they will receive a one-of-a-kind experience that will enhance their organization while helping protect our natural environs.
No destination is more dedicated to sustainability efforts than ours. And why not? We owe so much to what Mother Nature has given us. We are proud to do our part to preserve it. Our bet is that not only will our green efforts ensure Atlantic City will remain a top-flight home for meetings and events for years to come, but they will also inspire your attendees—to think of more than themselves, to forge teams for a greater purpose, to breathe new life into their corporation, association or organization.
The world is what we make of it. See what awaits here, where the sea breeze makes you feel like you hit the jackpot every day.
Center of It All
It makes sense than Atlantic City, which is at the forefront of innovative meeting spaces, would be a leader in helping planners craft mindful events. Just as the Visit Atlantic City staff will take some of the burden off planners, our most dynamic properties and venues use technology to maintain maximum energy efficiency.
Atlantic City Convention Center is not only home to many memorable events each year, it also houses the largest single roof-mounted solar array in the United States. This incredible accomplishment consists of 13,000 individual panels and covers over 290,000 square feet.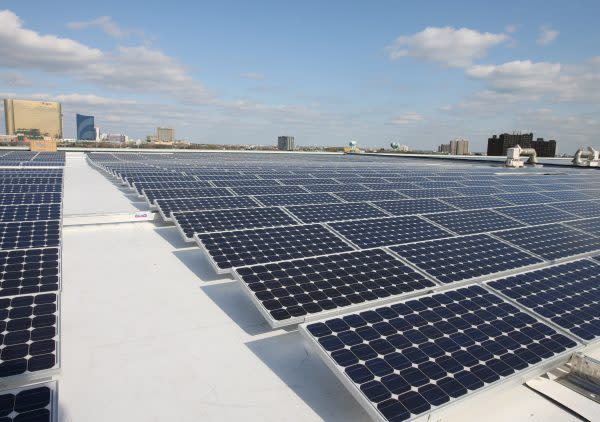 Convention center staff continually work to implement green initiatives from top to bottom. Atlantic City Convention Center was awarded LEED Gold certification in 2019 due to efforts like LED lighting retrofits, close alignment of equipment operations with scheduled shows, ongoing preventative maintenance activities, restroom renovation designs that include installation of low-flow plumbing fixtures and the start of a robust recycling program. 
Just as much care is taken into the hosting of conventions, conferences, meetings and events. The facility, occupying nearly 31 acres, is one of the largest convention centers on the East Coast—and we make good use of that space. It is literally a work of art.
Visitors entering the building are welcomed by a 90-foot-high skylit atrium lobby (109,100 square feet) complete with a lobby concierge, sculptures and art. Ocean-themed sculptures decorate the center, and there are striking photography exhibits to complete the true sense of place.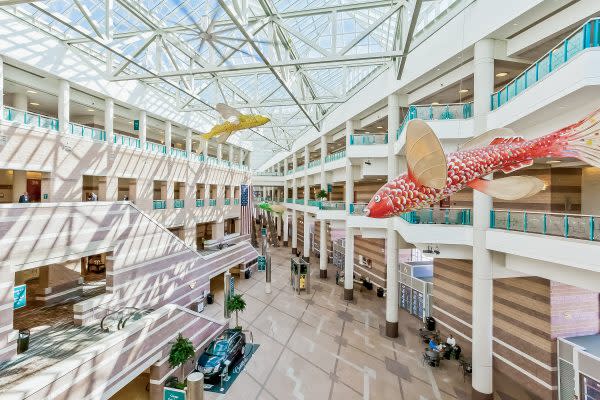 Planners have 500,000 square feet of contiguous event space to work with. Five exhibit halls range in size from 29,400 square feet to 199,500 square feet. There are 45 meeting rooms and 32,000 square feet of prefunction space.
There is little wonder the Atlantic City Convention Center is such an iconic building.
Driving Forward
Perhaps the best amenity of the convention center, and the destination in general, is its location. Atlantic City is within driving distance of one-third of the nation's population and 20% of the country's business addresses.
As events rely on local and/or nearby attendees to boost the return of in-person events, planners will have potential attendees in hubs like New York, Philadelphia and Boston within their reach. Not only does driving into a meeting decrease travel hassle, but it is also more eco-friendly than flying.
Once in the city, getting around is also as easy as getting here. Powered by compressed natural gas, the Atlantic City Jitney is available year-round. Planners can rent the people mover to facilitate travel to the many memorable destinations and venues, including the plethora of restaurants operated by renowned chefs. Additionally, a pedestrian air bridge links the Convention Center to the adjoining Sheraton Hotel—eliminating the need for a vehicle.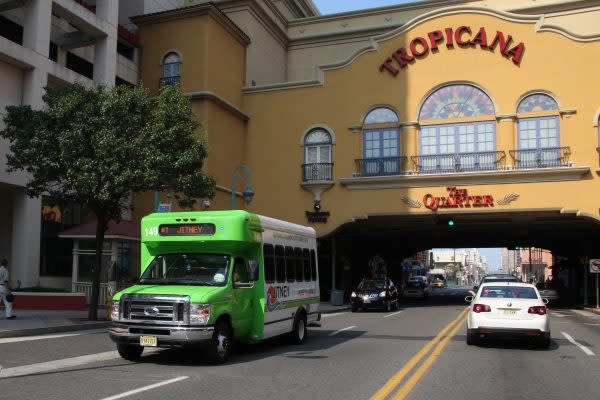 A Breath of Fresh Air
The outdoors are going to be popular for groups, particularly as large groups begin to gather at face-to-face events instead of on Zoom calls. Atlantic City has long known the power of fresh air, and the community is dedicated to maintaining this natural resource.
Jersey-Atlantic Wind Farm, an initiative powered by the Atlantic County Utilities Authority, is a key saver on two fronts. The turbines have prevented more than 62,000 metric tons of carbon dioxide from entering the atmosphere and saved $6.1 million in energy costs since opening. This permits for a continued clean, safe and healthy environment. It just underscores we understand the myriad benefits of going green and can assist planners in developing ways to incorporate sustainability into events.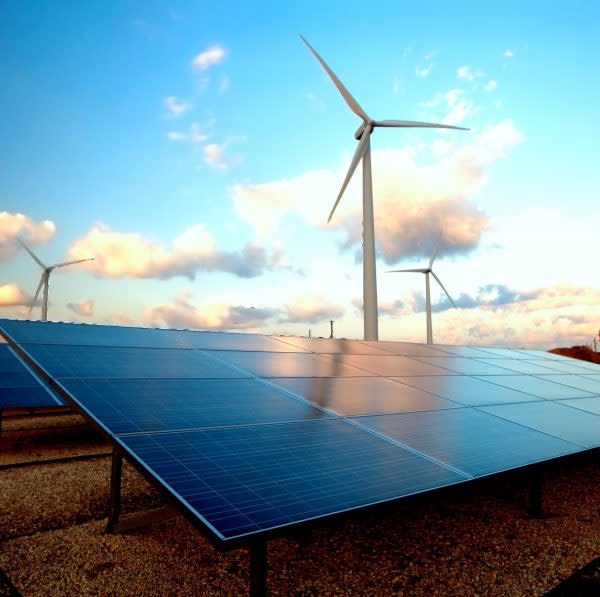 Beautification and Beyond
Teambuilding activities help forge bonds to produce greater work once attendees return to the office. Why not combine that goal with a chance to leave a meeting destination a little better than when you entered?
Corporate social responsibility options include beach cleanups to help preserve Atlantic City's ecosystem so future generations of attendees can enjoy the sand and ocean.  Other partners to include for CSR giveback activities include: Boys & Girls Club of Atlantic City, Atlantic City Rescue Mission, the Food Bank of South Jersey and the Humane Society of Atlantic County.
Another example of Atlantic City's beautification and betterment are the more than 50 murals adorning the destination's buildings. Consider scheduling a walking tour to enjoy these visual spectacles that tell rich stories about our destination, using the art to underscore how there are many ways to express yourself. Such lessons are particularly important from a marketing and branding standpoint.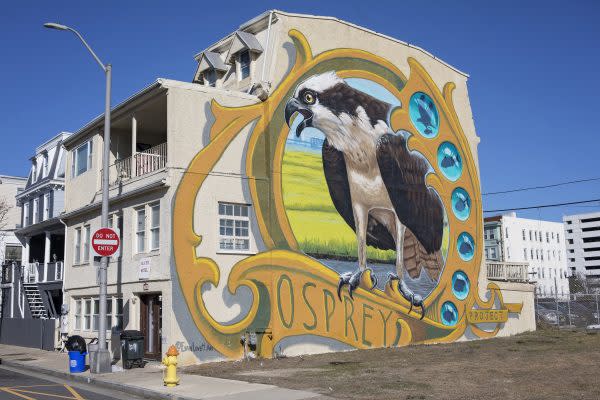 Back to the Beach
While everything starts with the beach in Atlantic City, it also ends there too. There is no better example of the mix of natural amenities with modern facilities. It's important to remember that the first permanent boardwalk was built in 1870 as a way to keep sand off hotel carpets. Every 12 years, the boards are replaced because of the enormous foot traffic—as the community yet again comes together to preserve and rejuvenate our most prized treasures.
Planners may want to consider a beach party for off-site receptions. Not only does this allow for social distancing—an important factor for the foreseeable future—while showcasing the very best of Atlantic City, but you will also create memories for your attendees while leaving a memorable impression of the destination.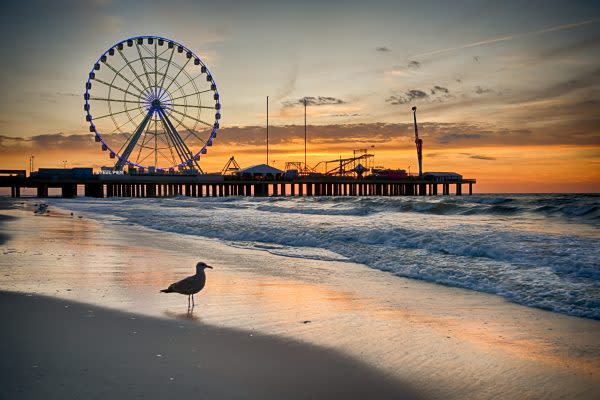 If this past year has taught us anything, it's that we need to take care of what we love. Visit Atlantic City is proud to assist planners in giving back while ensuring a memorable event leaves attendees wowed.