If you're a fan of thrilling aerial displays and heart-pounding aviation performances, mark your calendars for August 16th as the Visit Atlantic City Airshow "A Salute to Those Who Serve" returns to the skies for its 20th anniversary celebration.
Whether you're a seasoned airshow attendee or a first-time visitor, there are some key details you need to know before you embark on this adrenaline-fueled experience.
Date and Venue
The 2023 Visit Atlantic City Airshow is scheduled for August 16th at 11:00 a.m. with its practice day happening on August 15th. The annual event is renowned for its stunning coastal backdrop, offering spectators clear views of the performances from the Atlantic City Beaches and world-famous Boardwalk.
Pro tip: Bring a portable radio and tune in to WPG Talk Radio 95.5 FM and 1450 AM to hear all the commentary during the event. Staying in one of the casino resorts? Look out your room's window for an elevated view of the show.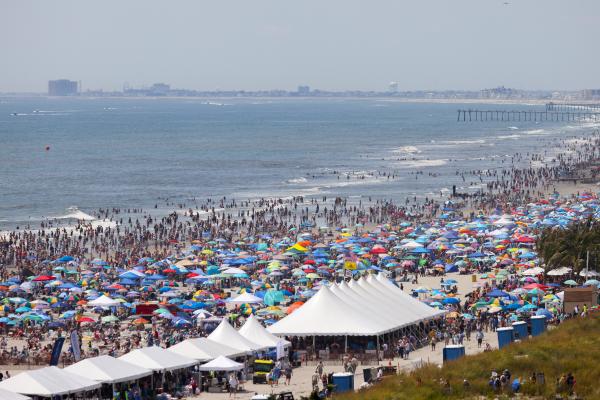 Star-Studded Lineup
Prepare to witness breathtaking aerobatic displays and heart-stopping stunts performed by some of the best pilots in the world that are sure to leave you in awe. These civilian acts are only a portion of the Airshow's already star-studded lineup with the return of the U.S. Army Golden Knights, the U.S.A.F. Thunderbirds, the U.S. Marine Corps AV-8B Harrier Demo Team, and our local 177th Fighter Wing of the N.J. Air National Guard.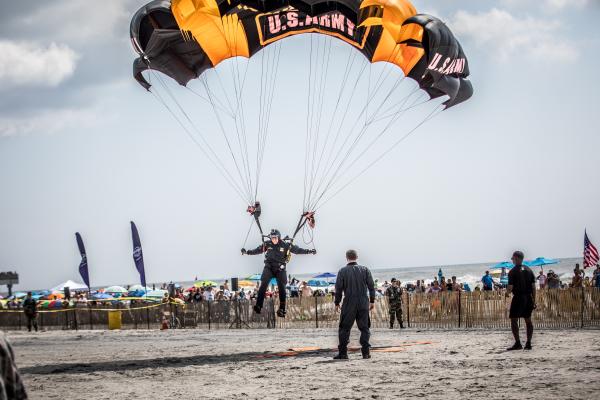 Spectator Tips
Arrive Early: Due to the airshow's popularity, it's advisable to arrive early to secure your viewing spot and avoid heavy traffic.
Bring Sun Protection: The August weather can be hot and sunny, so don't forget to bring sunscreen, hats, and sunglasses to stay comfortable during the event.
Listen to Announcements: Pay attention to the announcements made by the airshow organizers for important safety instructions and updates on the schedule.
Camera and Binoculars: Capture those awe-inspiring moments with your camera, and don't forget binoculars to get a closer look at the high-flying action.
Enjoy the Show: The high-caliber event is one of the nation's finest airshows and the perfect addition to your Atlantic City experience!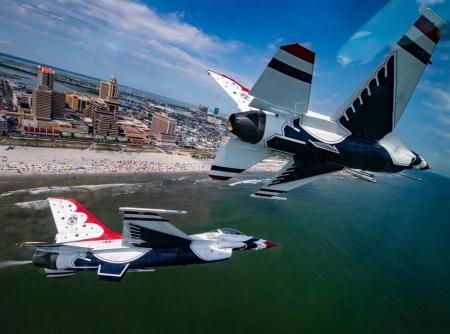 With a captivating lineup of civilian acts and military demonstrations set against the stunning backdrop of the Atlantic Ocean, this year's airshow promises to be an extraordinary celebration of aerial excellence. Mark your calendars, plan your trip, and get ready to witness the sky come alive on August 16th, 2023, in Atlantic City, NJ.